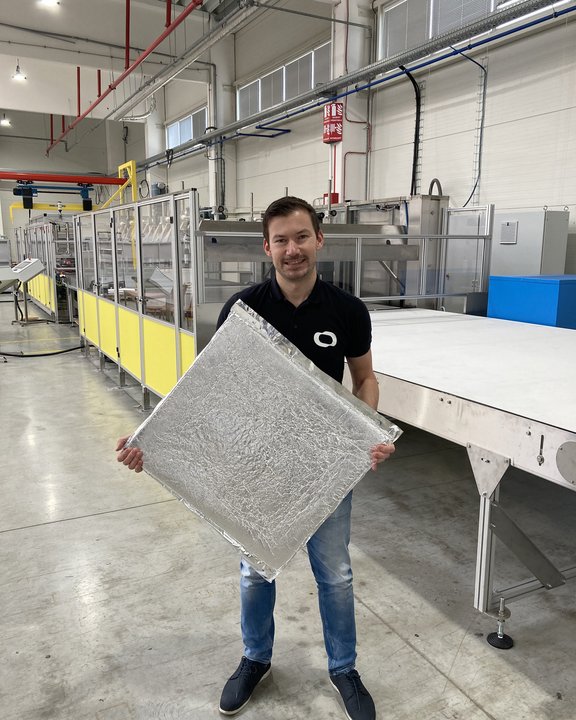 21.02.2022
NEVEON to launch a new,
sustainable vacuum
insulation panel
As part of the expansion of NEVEON's Specialties business unit, February will see the production ramp-up and market launch of a new vacuum insulation panel (VIP), which is to be manufactured at a brand new, fully automated line in Nýrsko (Czech Republic).
Owing to its low thermal conductivity of only < 0.004 W/mK, the vacuum insulation panel can justifiably be described as a small energy miracle. It does not only cut the heat losses of small and medium-sized hot water tanks by up to 50%, it also offers the additional, significant advantage of raising the energy class from C to A, or B to A+.
According to Daniel Scherhammer, NEVEON's Thermal Insulation Product Manager, "A large percentage of the energy consumed in households is used for hot water and room heating, and therefore energy efficiency is particularly important in this area." Consequently, the foam manufacturer has developed its new VIP with the dual aim of increasing the effectiveness of thermal insulation and, in terms of sustainability, significantly improving NEVEON's global CO2 footprint. Therefore, the company has installed its own 40m-long production line in Nyrsko, which provides an annual output capacity of 150,000 VIPs.
The primary focus of application of NEVEON's new vacuum insulation panel will be found in the Specialties business unit (especially in the heating sector). In the future, however, use in the mobility market of the group is planned, because in the expanding e-mobility segment, such energy-efficient thermal insulation clearly means increased vehicle range. "We see the VIP as a sustainable and promising product that will enable us to offer our customers an even more extensive range of innovative, thermal insulation solutions", says Daniel Scherhammer.