As an integrated foam group, we work with almost every technology related to foam. We put our passion and experience to work as we develop outstanding solutions for every challenge, filling our customers with enthusiasm for our exciting world of foam.
the
perfect partner


for all things foam
From producing standard and specialty foams through converting and finishing to putting together the final application, we are well equipped to provide the desired solutions to our customers. By utilizing decades worth of specialist knowledge and our highly advanced machinery, we can meet the specific market and customer requirements in terms of product design and functionality. The scalability of our processes allows us to navigate all our projects as an expert partner, from prototypes in the early stages through to mass production applications.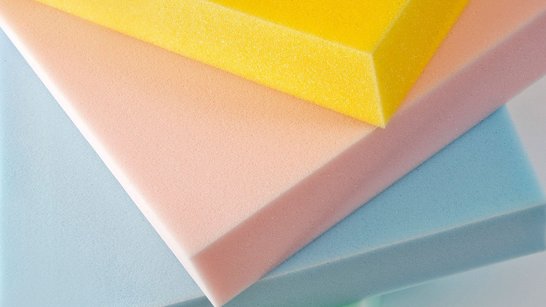 We challenge the status quo, we are courageous, and we advance sustainable innovation – all without losing sight of our roots and our decades of experience. At our research and development center, we shape the future of foam. We place high value on sustainability and strive to deliver sustainable solutions. By developing foams with additional functions, we create a new experience and further product benefits for our customers and end consumers.
We consider fabricating and converting foams to be our core competencies. To this end, we offer a broad spectrum of mature technologies to process, machine, and finish our foams. In the first processing stage, we offer foam blocks for our customers to convert. But we are also happy to tailor custom foam solutions, that are precise down to the millimeter. These solutions range from flakes, sheets, and rolls through perfect-fit, made-to-order cut foams. We convert used foams into composite foams.
We look forward to
hearing

from you
If foams are the solution, we are the right partner for you! Contact us.