Our goal

100% Recycling

of used Mattresses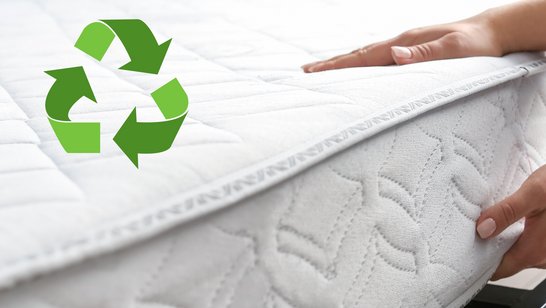 On average, we spend one third of our lives in bed. This makes the mattress probably the furnishing item with which we have the most contact. After 10 years at the latest, mattresses have reached the end of their service life. In the EU, around 40 million old mattresses are disposed of every year. In the process, many resources in the mattress - foams, metals, textiles - are lost forever.
Bulky waste usually means incineration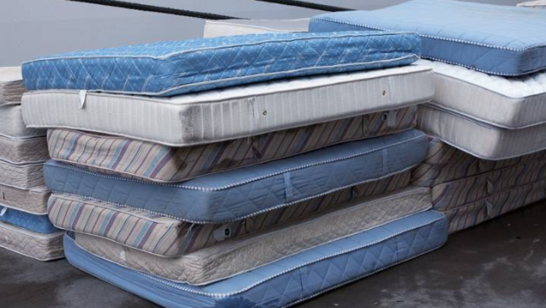 Mattresses may be worn out, stained and yellowed after 10 years. But this does not make them worthless. On the contrary: mattresses are made of valuable raw materials, ranging from metals from innerspring mattresses to textile materials and plastics. The latter are particularly critical and interesting at the same time in terms of recycling.
In mattress recycling, special importance is attached to the preparation and reuse of foams. This applies above all to polyurethane (PU) foams. After all, around 65 percent of all mattresses sold are pure foam mattresses. A high proportion of PU foam is also found in mattresses with spring cores. Basically, there are two ways of recovering the polyurethane foam from a mattress that has reached the end of its life: mechanical and chemical recycling.
In a chemical process, the polyurethane waste is broken down. This recovers the polyol originally used for the mattress foam. This so-called secondary polyol can in turn be used for the production of mattresses or other goods such as adhesives, insulation boards, cushions or insulating foams for the construction industry. That is why we have been working with BASF since 2022 on a new process that can be used to return PU foam from mattresses to the product life cycle. With this research activity, we are making an important contribution to the circular economy, as the recycled materials can be used for the production of new mattresses with a significantly lower carbon footprint.
In the course of mechanical processing, the polyurethane waste, for example, is reprocessed into composite foam.
Advantages of
sustainable mattress recycling
Compared to other recyclable items, mattresses are easier to collect and sort.
Recycling of used materials as raw materials or auxiliary materials for other products.
Using some recovered raw materials to make new mattresses as part of a circular economy.
Recycled raw materials save a lot of CO2 in contrast to the extraction of new materials from fossil raw materials.
The consumption of fossil raw materials, which are more likely to be needed elsewhere, drops dramatically.
Recycling, and especially the circular economy, reduces the cost of waste disposal.
Thanks to special recovery processes, the mattresses made of recycled material are of the same quality as the mattresses made of conventional material.